As a digital advertising agency, VIEWS helps businesses like yours to get their message in front of the desired audience in the most efficient and effective ways possible. With digital advertising, we connect your ads with searchers actively seeking what you provide.
Up to 90% of Americans report that they use the Internet, whether on computers, smartphones, or other devices. Most business owners realize that a strong digital presence is important to the success of their companies.
Sometimes, the only realistic way to be found for your service is through paid advertising. At other times, paid advertising enhances current digital techniques. We recommend digital advertising for many small business clients looking to take the next step in building brand awareness or more targeted audiences.
What is Digital Advertising?

Digital Advertising is the use of internet marketing to engage a target audience and drive traffic to a website. Digital advertising includes pay per click, social media, video, display marketing and more. Digital advertising allows advertisers to reach audiences in a more personal and interactive way, in real-time. Advertisers can track the effectiveness of digital strategy much more precisely than was ever possible with conventional advertising.
Is Digital Advertising Right for Your Business? 
The goal of every business, large or small, is to have customers purchase their product or service. The benefits of paid search marketing to accomplishing this goal are numerous and powerful. An effective way to reach that goal is to get ads in front of the right audience. Depending on your product or service, or your competition, some platforms will be more effective for you than others.
For example, display ads are very effective at increasing brand recognition and can include images or videos. Coupled with retargeting and pay per click ads, you can run very successful advertising campaigns.
According to Google research, businesses get a $2 return for every dollar they spend on Google Ads. Google Ads offers quite a few advertising options. The key, regardless of which platform you use, is to have knowledgeable guidance.
You may have noticed the last time you did a Google search that quite a few of the results were paid ads. Google IS showing more ads than before, and you may see fewer than 10 organic search results per page, with up to 8 paid search ads. And according to SEO Tribunal, the top 3 paid ads on a search engine results page get 41% of the clicks. Along with being a good way to improve your online reputation, you definitely want to be part of that statistic!
What is Digital Advertising?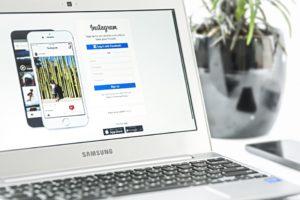 Digital advertising encompasses a number of paid search advertising opportunities online. You may be familiar with some, such as Google Ads (formerly Google Adwords) and Facebook ads, but many other various platforms exist. Some of the types of digital advertising include:
Pay Per Click (PPC Ads)
This paid search advertising strategy can be highly effective, especially when combined with SEO to increase organic results. Businesses only pay when a user clicks on its ads, and only for keywords that the business determines are relevant to its results.
Social Media Advertising
Businesses should have a presence on social media, and work with a social media marketing agency to build their presence. Social media can even be used to improve your digital reputation. In addition, paid advertising on social media platforms can be very effective, as long as you know which ones are most relevant for your business. For example, Facebook has a broad reach with consumers while LinkedIn is a great platform for B2B marketing strategies.
Retargeting
Retargeting is a type of advertising that targets and advertises to people who have already visited your website. For example, after someone visits a specific product page, that person later sees a display ad on another site for that exact product. If you have specific products you want to sell or want to increase your brand awareness, retargeting is a good tactic.
Programmatic Advertising
This type of advertising allows businesses to bid on ad space in very specific conditions for specific audiences. Programmatic is s very beneficial strategy for niche companies with a particular type of user.
Geo Fencing
This local paid advertising strategy enables businesses to target only users in a certain geographic area. This feature is especially relevant for businesses who offer local services.
Non-Profit Grants
With non-profit grants, eligible entities are granted funding, under special rules, for advertising with Google Ads.
Amazon Advertising
Amazon has stepped into the world of display and advertising. This platform is most beneficial for companies who want programmatic advertising on a large scale.
Waze Advertising
Waze targets drivers who are in the area of your business. Drivers will see your business on their maps when you use branded pins. Advertisers can also utilize their "zero speed takeover" so that drivers will see a "billboard" when the car is stopped.
Video Marketing
Videos are more and more popular, especially with up and coming generations. Video marketing increases conversion rates, no matter which platform you are using. Many types of videos exist, such as explainer videos and blog-based videos. VIEWS will help you determine which one will be most effective for your business.
How Does Digital Advertising Work?
Digital advertising is very versatile. A business can achieve a broad reach that will just get the business brand recognized. The same business can choose to create a buying persona and focus on ads and content that will touch that group.
Many forms of digital advertising allow you to choose very targeted demographics. These demographic selections, including age, location, and more, will allow you to more easily reach the audience that is looking for your product or service.
The idea may be daunting. You may wonder how to decide which paid advertising strategies are right for you. You may feel that you have no time to invest in dealing with the learning curve and with analyzing the results month after month. That is where we come in!
Why You Should Hire a Paid Search Advertising Agency
Google, Facebook, and others make it deceptively easy to set up marketing campaigns on their platforms, knowing that many will try and most will fail. Understanding the auction parameters, competitors, search behaviors and how to make your particular products and services succeed is very complex.
Digital Advertising will have a large impact on your business.
Paid Search Advertising requires skills to set up and manage a successful campaign.
Paid search advertising agencies can apply lessons learned from other campaigns to your account.
Keyword research is complicated.
Ad copy is more than words.
Landing Pages are a science and an art.
Paid search advertising agencies can help you avoid unwanted clicks to save money and get better conversions.
Managing the advertising budget is time-consuming.
Analyzation of the results holistically is required to be successful.
With a paid search advertising agency, you will have more support directly from the source, whether the source is Google, Facebook, LinkedIn or others. Agencies are able to aggregate their ad spend and get access to tools and resources that smaller advertisers are unable to afford.
VIEWS Paid Search Advertising Agency Has Strategies to Build Your Business
A paid search advertising agency like VIEWS can help you create relevant ads with effective calls to action, determine the ad spend that will get you the results you are looking for, and keep track of results. Monitoring the results, including conversion rates, cost per click, cost per acquisition and other relevant key performance indicators (KPIs), enables you (or your VIEWS specialist) to continually improve your campaign to get your business even better results. That monitoring is important to keep seeing positive results.
Check out our case study detailing the benefits derived from having our specialists give regular attention and maintenance to a Google Ads campaign that had become stagnant. Then give us a call to see what we can do for your business.
Where Do I Get Started with Paid Search Advertising?
Ready to start an effective paid digital ad campaign to boost your business? The VIEWS team can help! Our digital marketing specialists have the knowledge and experience to create a powerful and effective integrated marketing strategy for you that includes paid advertising campaigns and search engine optimization techniques.