Local Search Engine Marketing Agency Helps Attract Local Visitors
Being found when someone searches for your keywords is an essential part of any online marketing plan. Organic search engine optimization (SEO) is a method of ensuring that your business is ranked at the top of the search results. The process of making your website stand out from the competition and helping your potential customers to find you easily is complicated, ever-changing and sometimes may seem outside your budget. A local search engine marketing agency can help make sure that you are found by your target audience.
What is Local SEO?

Local SEO (search engine optimization) means using various methods to make sure your site is found when people are searching for your product or service in your local area. Retailers or companies who provide services (like hair salons, medical providers and attorneys) that have a brick and mortar location benefit from this type of optimization, because they only want to reach the nearby people who are likely to purchase from them. Home Services companies like roofers, landscapers, and home health care providers also benefit from local SEO and want to be on the top of the list when people search for the services they provide.
Search engines have become increasingly sophisticated over the years. They need to be able to quickly interpret what a website is all about so that they can match user searches with website content. SEO marketing, therefore, involves constantly changing rules and techniques that help search engines sort out what your web pages are about. Add to this the fact that a rising number of viewers (9 out of 10!) are accessing the search engine results pages (SERPs) on mobile devices to gather all types of business information, and you can see that search engine optimization is an important endeavor.
Does Your Business Need a Local SEO Campaign?
Are you primarily interested in reaching local markets for your products or services? An increasing amount of Internet users are turning to local search to find the businesses that are nearest them. 
Google estimates that 73% of all online activity is related to local searches.
According to a 2018 study by Uberall, 69% of smartphone owners use mobile phones to shop. (Search Engine Land)
82% of the smartphone owners who use their phones to shop used searches with the local keywords, "near me."
Undoubtedly, local search optimization has become a necessity for many large and small businesses who want to reach people in their service areas. To take advantage of this opportunity smart businesses are enlisting the help of a local search engine marketing agency.
Optimize Your Business For Local Search
Searchers may use zip codes, as well as city and town names to localize results. In addition, Google is smart enough to show local results when intent is understood to match your site's content. As part of our local SEO services, we conduct research to identify the ideal local search terms, typically a combination of a location name and a type of service.
Optimizing and localizing your website content should be an essential part of your digital marketing strategy. The next step is to get your business listed in local online directories. We strive to ensure consistency throughout local business listings on various directories, like Google My Business (GMB) which can also aid in improving your site's ranking. We recommend adding Google Maps to your site as well because if your location is known to Google, you can show up in location listings, which appear above organic listings on SERPs. In addition, Google Maps can help your high-quality prospects find their way to your door!
Reviews and Reputation Management
Because businesses with more customer recommendations and online reviews are considered more relevant in local search, we recommend that businesses encourage their customers to leave feedback on Google and other review sites. Reviews on Facebook and other social sites, mentions on sites like NextDoor, and other online community recommendations, are increasingly important too: social signals are part of the algorithms Google uses to decide ranking position. People also rely on reviews more than ever since so much of our search and communication happens online.
Adaptive Search Engine Optimization And Online Marketing Services
Due to the success of social media to connect people basically anywhere in the world, Google integrated social signals into their search algorithm, as we mentioned above. This clearly shows that a new approach to SEO should be taken if you want to take advantage of social signals and AdaptiveSEO is the answer.
With content and social media being direct ranking factors on Google's search algorithm, SEO, content marketing and social media are no longer able to be segregated into their own silos anymore. With AdaptiveSEO we can combine all of the aspects of optimization so that you will have one strategy that will complement your entire web presence.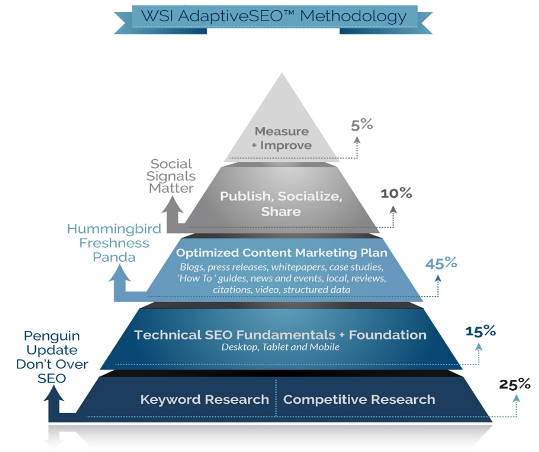 As a local search engine marketing agency we build on your company's reputation through reviews and directory submissions, we utilize content marketing and social media marketing to increase your authority and influence in the communities where those seeking your products or services will be found. Customer confidence can go a long way in getting people to come to your business. That confidence can be built by participation in targeted groups and by creating quality localized content. This content can live on your site, but also be used on various social platforms. Your desired audience might live on LinkedIn, Facebook, Houzz or Instagram. We will help you determine which areas will get you the best results.
Adaptive Search engine optimization and marketing services by VIEWS local SEO company will help your website be found, stay relevant and engaging, and work to attract lots of targeted traffic, organically. Organic traffic is made up of visitors who have found your website through a simple search engine query – the most popular method of finding companies online today.
In determining which individualized digital marketing solutions will work best for you, we'll analyze what your competitors are doing, where they're showing up and how you can get ahead of them. There is a perfect mix of search solutions out there for your business. With a little digging, we will uncover that mix, and help your business show up where you need to be seen.
Let VIEWS Digital Marketing Show You How to Explode Your Local Business Results
Given the prevalence of local searches in today's marketplace, taking the time to optimize your business for local search is invaluable. Doing so with help from VIEWS local search engine marketing agency specialists can contribute to increased business and revenue, without the stress of conquering the learning curve. We also incorporate other services, such as Google Ads and social media, to enhance your local online visibility. Contact us today at 610-650-0227.
Ready to see big improvements in your local business volume?