How Google Ads Can Get More Leads for Your Business
The number of Google searches per day is approximately 7 billion, with a significant amount of those searches involving people searching for local businesses. Search intent has become a more substantial factor in Google's algorithms, and optimizing your digital advertising campaigns for intent rather than simple marketing impressions is crucial. Google Ads gives your business the ability to leverage search results to generate more leads and conversions. By targeting specific parameters and using the proper campaign types, you can reach many potential customers across Google's network.
How Google Ads Works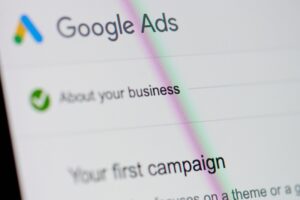 The primary method that Google Ads uses when determining if your ads will display is a keyword auction. Businesses first determine which keywords are most relevant: the ones people are most likely to use in search engines when searching for their products or services. Then, companies bid on those keywords, with the bidding amount (the cost per click) being whatever those businesses are willing to pay for someone to click on their ads. More specific search parameters, such as targeted geographical areas, the time and days the ads should display, and the particular action businesses want users to take are also important when setting up an ad campaign. Once a company has determined the keywords, bids, and those specific targeting parameters, if they win the auction, their ads will display above or below Google organic results when people search for the selected keywords.
Google Ad Campaigns
In addition to the traditional search campaign mentioned above, you can use other types of campaigns to increase your reach and lead generation efforts.
Display campaign – You can create display ads that will show on various websites like YouTube to reach people earlier in the buying process.
Shopping campaign – Retailers can better promote specific inventory to likely customers with a shopping campaign.
Video campaign – Video ads are highly effective at reaching potential leads on YouTube.
App campaign – An app campaign is how you can promote your app across all Google platforms and properties, such as Google Play and YouTube.
Depending on your industry, products, and services, you can utilize Google Ads to reach many people across Google's network.
The Benefits of Google Ads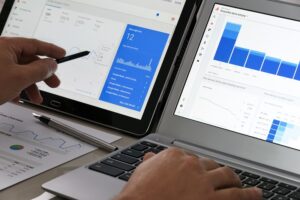 Whether you own and operate a small local business or a medium-sized national business, or even a large international business you can benefit from a Google Ads campaign. Because Google Ads allows you to target certain areas or a specific around the business, specific search intent, times of day, and a host of other factors, your ads are more likely to reach desired customers. Your business gets a high return on investment from your ads because:
You only have to pay for ads people click on.
The amount you pay Google is minimal compared to the revenue you gain in a successful conversion.
Even if people do not click through your ads, your business still gets a brand or marketing impression. In particular, local businesses benefit because 76% of people who find a company via Google search on their smartphone visit the business within one day.
Google Ads Tactics to Reach Searchers
To make the most use of your Google Ads, here are a few tactics that VIEWS uses to create high-quality ads, reach users, and generate more leads.
A strong, simple, enticing call-to-action leads customers to the next step on their buying journey.
We create multiple ads, test them, learn which ones are the most effective and efficient, and optimize their rotation to emphasize better-performing ones.
Our team also creates engaging and effective landing pages for the ads, which leads to more conversions.
The copy we write is engaging, captures the users' attention, and addresses their needs, making them more likely to do business with you.
Contact VIEWS for Google Ads and Other Paid Advertising Services
As more and more people use Google to find local businesses for their needs, companies need to have an effective advertising strategy. Our paid search advertising agency will work with you to develop the best paid search advertising strategies, targeting your key demographics and driving more people to your business. We have years of experience working with small to medium sized businesses, from B2B to nonprofit organizations, on their paid advertising campaigns, helping them generate leads. Our team of digital marketing consultants will combine a paid advertising campaign and an SEO strategy into an efficient lead generating tool. To grow your business with Google Ads, contact VIEWS today.