WSI Won the Top Agency Award at 2019 WMA Awards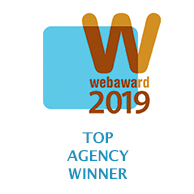 October 8, 2019 – Philadelphia, PA – WSI won the Top Agency Award at the 2019 WMA Awards (Web Marketing Association Awards), as well as 15 additional WebAwards.
The 15 additional WebAwards were in the following categories: Best B2B Website, Best Medical Website, Best Restaurant Website, Best Home Building Website, five Outstanding Website WebAwards, and six Standard of Excellence WebAwards. These awards bring WSI's WMA Awards total to over 100 since 2007.
"We are extremely proud and honored to have been recognized by the WMA," said Nancy Vinkler, CEO and Partner of VIEWS Digital Marketing Agency. "Helping businesses and organizations to improve their digital marketing and profitability fuels our passion, and these awards make us excited to set new standards in our industry."
The Web Marketing Association, founded in 1997, has produced the WebAward Competition since 2003 and recognizes excellence for internet marketing and website development. The 2019 WMA Awards receives entries from 96 different industries. At the 2018 WMA WebAwards, WSI took home 10 total awards, including the Best Real Estate Website, B2B Standard of Excellence, Restaurant Standard of Excellence Award, and the Design Standard of Excellence awards.
About VIEWS Digital Marketing Agency
VIEWS' team of digital marketing consultants, recognized for achievements using online marketing tools, drives success for their clients. VIEWS tailors a digital marketing plan that meets the individual needs of any business, which helps elevate their Internet presence and profitability to new levels. A better internet presence is accomplished using innovative Internet technologies and advanced digital marketing tactics. VIEWS is part of the WSI (We Simplify the Internet) global network of digital marketing consultants that have access to numerous resources across the world to better serve their clients. To get in touch with a specialist at VIEWS Digital Marketing Agency, call (610)-650-0227. For more information about offerings and business opportunities, please visit the website at www.viewsdigitalmarketing.com.
Contact: Nancy Vinkler or Maryn Williams
610-650-0227
VIEWS Digital Marketing Locations
50 Casselberry Drive, Norristown, PA 19403
5721 Hearthstone Lane, Nashville, TN 37027