Marketing Your Business Through the Power of Mobile Devices
Beepers and clunky cellular phones are a thing of the past but we must admit that without them, mobile devices wouldn't be a thing today. The evolution from clunky cell phones to touchscreen smartphones is phenomenal. These gadgets are impressively innovative – using technological advancements to deliver convenience for all of us.
Today's mobile devices are not limited to voice calls and text messaging. They are now one powerful tool that allows a user to browse the internet, capture photos or videos, manage their calendar, a device for gaming, an alarm clock and so much more!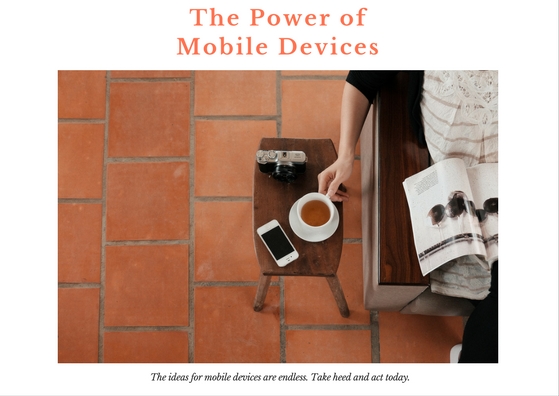 The ideas for mobile devices are endless. If you're a business owner, you don't want to overlook the opportunities in marketing your Business to mobile users through this device. Here are some highlights as to why mobile marketing is the fastest growing marketing platform:
Google's Paying Attention, You Should as Well
Google released the statement that 2015 was the first time in a history of the internet when more search queries were made on mobile devices than on a desktop. Based on users use their smartphones to surf the web the search engine giant made changes to their programs.
As a business owner, you should be well aware that having a website is essential. With this knowledge, your site should cater to both mobile and desktop users and therefore it should look good both on big screens and small screens. Is it advisable that all websites have a responsive theme that is mobile-friendly? We think so. Taking this important step puts your audience first by giving them a good user experience while visiting your web pages.
Mobile Devices are Still a Communication Device
Mobile devices are indeed a great tool to communicate with family, friends, and colleagues. Aside from the usual voice calls and voicemails, chat and texts, it can be used to contact close networks through social media outlets; Facebook, Twitter, Instagram and LinkedIn to mention a few.
For businesses, it is important to establish and continue communication with their followers, especially in social media. It keeps their supporters updated on the latest trends, news, products, and services your business has to offer. Also, social media has been a great communication tool for customer-relationship management to address problems, concerns, and even queries. All these activities can be through desktop or mobile devices for both parties.
Mobile Devices are a Great Location Tool
One of the most significant advancements in mobile technology is the capability to locate your current location via GPS. Pokemon Go, the most recent popular app today uses an actual map that interacts with virtually made creatures. Many local store owners leverage the explosive growth of this game as they registered their business as "Pokestops" which entitled business owners to lure game players to visit their place.
Prior this hit phenomenon, apps such as Facebook and Foursquare allowed customers to check-in at local businesses and offer reviews. It is significant for local business since almost all people have a social media account which give the business free exposure and gain authentic ratings and feedbacks from real people.
This list just scratches the surface of the possibilities for mobile marketing. Mobile marketing should be on a webmaster's list of skills and tools. The stakes are high and hold an even brighter future. If you need help in upping your mobile strategy, feel free to contact us. We love to help local business owners leverage mobile marketing and assist them to reach their goals and success.