How to Build and Increase Brand Awareness
We understand the frustrations of the small business or local store owner in Nashville, Tennessee and other regions of the United States. It's hard to establish a brand as it takes a lot of work, dedication, passion and time. However, if your products, services and exceptional customer service have what it takes to stand out from your competition, you can start creating a 'buzz' within your community. This would be a great stepping stone on the path to Brand recognition.
Build and Increase Brand Awareness
5 Key Components for Building Better Brand Authority from WSI World on Vimeo.
We have outlined four ways you can establish your brand and let it be known in our local area as well as through the world wide web.
Engage and be part of your community.
Have you considered providing sponsorships for children's sports leagues, or giving away prizes to community groups, or sponsoring a school or community leagues uniform?  Involving yourself and your brand in charity activities and other community activities is a good start. This type of community involvement is a win-win situation not only for your brand but for your neighbors as well.
Establish an online presence.
You'll be amazed at how people use technology in their lives. In today's world, if your establishment isn't found online, chances are, you are missing a huge chunk of possible customers – even within your local community or neighborhood. This really cannot be overstated. We are so accustomed to searching that we do not even try to remember our favorite place. Think about it, people use the internet, mobile phones and tablets to find pretty much everything, especially services and products in their vicinity. If your shop has a website or has registered on a local web directory, you'll likely receive a hit or a social signal that is beneficial for your brand.
Create your own business profile and be social.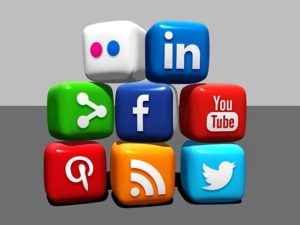 Everybody's on social media so are other businesses! This is one of the quickest and easiest way to introduce your products and services to the public. Social media profiles are easy to setup and manage, they come free of charge as well or you can hire a digital marketing consultant to set these up and help create the strategy. Be sociable and leverage the power of social media! Start showcasing your brand's strengths and how awesome and beneficial your products truly are. Enlist friends and employees to help spread the word.  Make sure to release regular and timely updates.
Write and share your knowledge and expertise online.
There are several ways you can tell the world you're passionate about something. You can start a blog, write an ebook that is free to share, guest blog on other websites that share the same interest or industry, do podcasting, create infographics and many other ways. All you have to do is create and share informative content that will be of great value to your targeted audience. Always remember to include your store name, website (if you have one) and your social links to all of your resources you've made for branding purposes.
Not sure where to start? Fret not! We are here to help you and your business thrive in the competition, putting every effort into conversions. Feel free to contact us for a complimentary consultation.