Your social media strategy needs to have an outreach plan to maximize your audience reach and engagement. Outreach is using social media platforms to raise brand awareness and strengthen your relationships with customers. Focus on building a list of prospects or potential leads. Once you have the list ready, tailor your outreach messaging and content to be personable and focus more on creating a meaningful relationship. Outreach is a method of generating leads in addition to getting more likes or shares on your posts.
Create & Schedule Compelling Content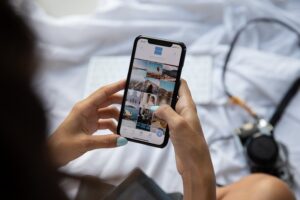 Once you have a good understanding of your audience, you can begin to create your social media content and schedules. The type of content you should publish is based on many factors, such as your target customers, goals, social media platforms, and more. You should have a good balance of different types of content (images, videos, text-only posts), and that content should be engaging to your audience instead of being excessively promotional. Video content has become especially popular in recent years, and platforms such as Instagram and TikTok are great for creating engaging video content.
Your hashtag strategy is also crucial, as hashtags help your customers easily find your content or create user-generated content through unique branded hashtags. Research trending or high-performing hashtags related to your industry or your SEO keyword strategy if you have one. 2-3 hashtags are generally enough to include in your posts (unless you plan to use Instagram, we recommend using as many of the 30 hashtags Instagram allows users to have.)
You also want to make sure that you have a good number of posts per week or month and that those posts publish at the best times. Schedule your social media content by using data of your audience to figure out when the best times and days to post content are. Planning and scheduling your social media content in advance will also help ensure your pages are consistently publishing content, giving you more time to plan and adjust your future content.
Review & Update Your Strategy
Even after you have your personas and content schedules in place, taking time to review your results is always helpful. Take the time to regularly perform reviews or reports on your social media marketing efforts. Look at the results thoroughly and carefully; you may find specific tactics or content either failed to meet or exceeded your expectations. For example, you may find that the results of your social media paid advertising campaign delivered exceptional results, and should be a new focus.
While strategies should have concrete actions and goals, they also need to be malleable and adapt. By reviewing and updating your strategy regularly, you can stay ahead of the curve and ensure your marketing efforts have a more significant payoff.
Contact VIEWS Digital Marketing to Create Your Social Media Marketing Plan
Do you want to improve your social media presence? Reach out to social media marketing agency VIEWS Digital Marketing to create your social media marketing plan. Our team of digital marketing consultants has years of experience providing quality, results-driven digital marketing services to small and medium-sized companies. We have proven results in social media marketing, improving our clients' social media pages' reach and engagement. For more information about our services, contact VIEWS today.