Google's Ever Changing Search Engine Results and How to Leverage These Changes
Google has re-arranged the search engine result page (SERP) to an entirely new format that removed the paid ads on the right pane.  There are several, more subtle, changes as well and here is the condensed list of what you should do to dominate search results.

Things to do today to dominate Google Search Results.
Place High Quality Ads if you want to be in the top 4 results –

Pay-Per-Click (Google Adwords)

Add Google Shopping ads for commercial products

Optimize your Google My Business Page for Local Listings

Optimize your listings in industry or niche directories such as TripAdvisor for Hotels

Optimize your Website pages for specific keywords for Organic placement on the first page

Find other opportunities to optimize on the Related keyword section.
New Google Search Layout
The new arrangement has advantages and disadvantages. Depending on the type of business, the competitors and the products, you will have different strategies to implement.  To review the overall layout.  See the sections in the image below.
Pay Per Click Advertising
In comparing the new search result page look to the old version, paid ads were the biggest losers. As you can see on the new SERP, the ads found on the right side of the page have disappeared. Meaning, bidding on ads will be more competitive than before since only (4) four ads can be shown for every search term.
The first items you see on a search list are paid advertisements. You may think users will overlook these ads because they are marked as paid, but ultimately the position at the top of the page makes them highly effective.
As an internet marketer, we only know some of the calculations that determine how an ad is scored or graded and therefore its placement. Also, we cannot guarantee that an ad placement bid will be shown on the search results page even though your bid is higher compared to the other bidders. What we can attest to is that each ad placement will be dependent on how well the landing page is optimized and how well the ad converts.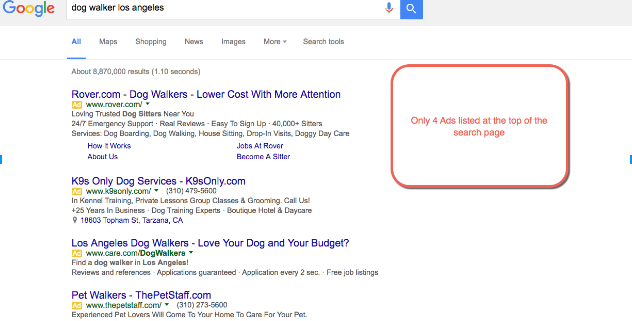 Google Shopping (commercial products only)
Google Shopping, formerly Google Product Search, Google Products and Froogle, is a Google service invented by Craig Nevill-Manning which allows users to search for products on online shopping websites and compare prices between different vendors. This is essentially another form of Pay-Per-Click advertising.  This is not new but it is expanded.  If you have an ecommerce site, you may want to consider advertising for your specific products.
Local Business Results (Maps)
The next visibility opportunity for local businesses is found in the local maps and local businesses descriptions.  This typically displays 3 or 4 businesses.  To be seen you must have a verified listing registered through Google My Business (see new changes on our blog post here) and an optimized description and current information. This should be a top priority for business owners and internet marketers. Make sure to categorize your business accordingly and add particular keywords to your business page 'about' section.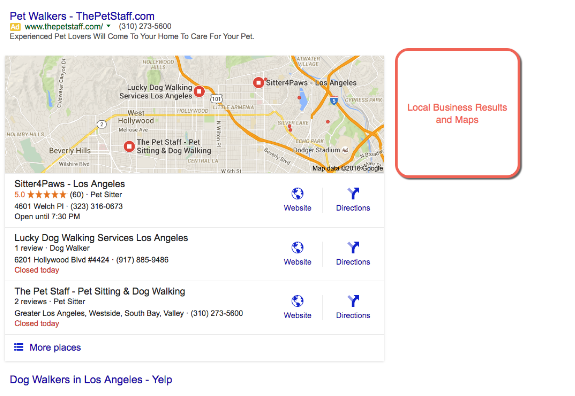 Directories and Collections/Comparison of  Various Sites.
After the local maps, you'll notice that top directories such as Yelp are shown in the search rankings. What is Google trying to accomplish?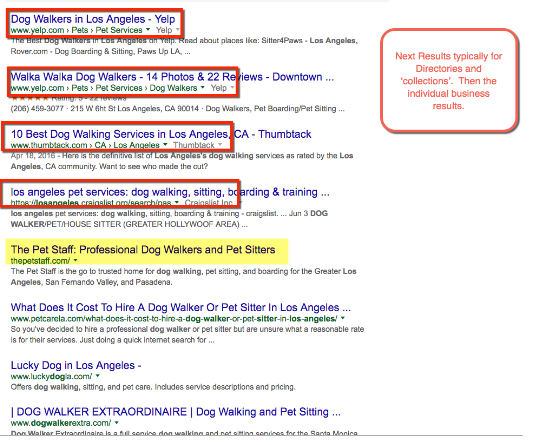 Having your business listed on these reputable web directories can play a part in a business' digital marketing success. Put yourself into a prospect's shoes — If you're planning to go downtown Nashville and it's your first time, you'll search for "best restaurants in Nashville". You'll likely end up with Yelp's website or possibly in other web directories that shows several restaurant choices with reviews.
People trust other people's feedback more than what the restaurant itself claims. We want to have the same positive experience as the reviews when visiting a restaurant or other location.
Overall, having your business listing published on the top directories in your business niche should not be a neglected marketing task. You can also encourage your customers to leave feedback through these directories to increase your credibility and build a strong brand reputation. The process may be daunting but the benefits a local business will reap has endless possibilities.
Organic Search Results
Next in Google's search ranking result is the organic searches. Depending on the type of business, organic results can fall to 7th to 8th search ranking after the web directories. It will show an optimized and highly relevant page together with its title, meta description and link page URL. Since the organic search result is still part of the first-page result, search engine optimization should still be prioritized.
Related Searches
Last on the SERP is the related searches found on the bottom of the page. This area shows recommendations for associated keyword phrases or search terms based on the query. It will give an internet marketer an opportunity to learn more keywords that can help a website's success.
Future of Search Engine Optimization
Regardless of where you stand on the google results, chances are that Google will change again soon and you may move up or down based on these changes.  It is not as important to stay ahead of Google as it is to stay ahead of your competitors.  One of the newer areas that we are watching is in Google's use of deep learning Artificial Intelligence and their proprietary RankBrain tool. This is too complicated to review here but feel free to read more about it and what you can do to stay ahead of the competitors.  
Looking at the broader angles, the changes in the search engine results has it owns ups and downs. This new format grants local businesses a larger chance to be featured on the first pages of the search result. If you're a local business owner that is currently struggling to establish an online presence,
WSI Websense is here to help! We offer a complimentary consultation and can provide a detailed Competitive Analysis Report. Contact us by mail message or through phone.