Local SEO – How to Optimize Your Google My Business Listing
Local businesses can leverage the usage of a vital business directory, Google My Business (GMB) for free. A digital marketing agency or internet marketer knows the importance of local business exposure in one of the most used search engines. Hence, one of the first steps in implementing local SEO is claiming, optimizing and verifying the Google My Business page.
A verified store listing in GMB increases a business' chances of showing up in the search engine results page. Having this listing optimized also increases one's chances of being seen in Google's Local Pack, Google Maps and in organic searches.
Submitting a listing in Google My Business is free. A business can sign up for an account and fill in important details such as your business name, address, store hours, contact number, and website. Visit https://www.google.com/business to get started.
Steps to Google My Business Listing Optimization for Highest Exposure
Most business owners who claim their listing in GMB may be unaware of how to fully utilize its potential. Throughout the years, Google My Business has added features that help local businesses get more exposure in their local area. Let's discuss in detail these features:
1. Description
Google My Business listing has now a description area. The description text area can cater up to 750 characters. A business can promote why their business is unique and why people should try their products and services. You can also leverage the text box and enter highly targeted keywords for more optimized business description.
Here's a screenshot of one of our Views Digital Marketing listing: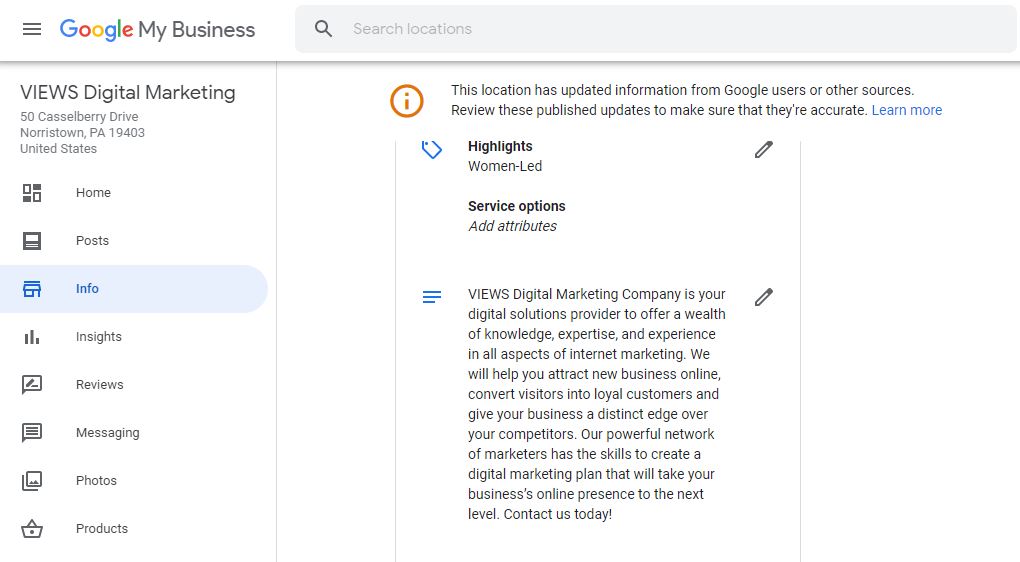 The best approach in optimizing a GMB listing is to fill out all information asked including the date where the store is first opened, hours, and payments accepted.
2. Making Edits
Another feature, which a GMB listing account holder can have minimal control over, is the ability of previous customers and clients to make or "suggest an edit."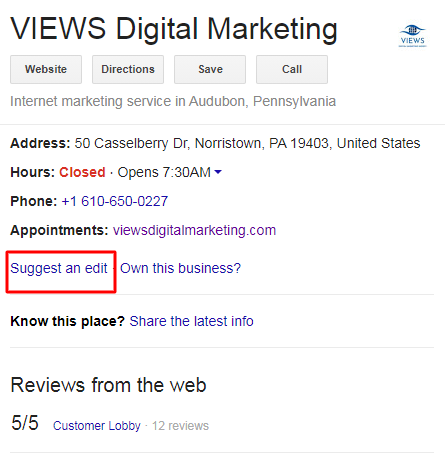 When someone clicks the "suggest an edit" button, they can update a business' details. These changes can even be made by competitors and sometimes the changes can go live without the listing owner receiving a notification. The best practice to keep all your details intact is to log in to the dashboard on a frequent basis.
Once suggested edits have been made, you can see them in the "Google Updates" notifications tab. Most suggested edits fall in the business category. These notifications allow you to review and approve updates suggested.
3. Answering Questions
Another option a user can engage in a business' GMB listing is to answer quick questions under the "Know this place" area. People can post questions and can also answer published questions. Business or listing owners are also able to answer questions.
4. Posts
To get the most of Local SEO, businesses should take advantage of a Google My Business added feature called "Posts." Google Posts are similar to social media posts but are published alongside your GMB listing. If used properly, a business can promote events, discounts, and any other special offers.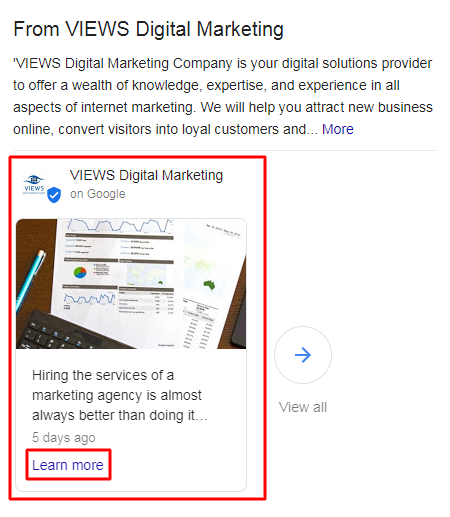 Google Posts offer a call-to-action (CTA) button that allows link inclusion back to your products' page or website. Google posts can be used to:
Promote events – a webinar or seminar can be listed with an option to add the event's date and time. "Registration link" or "More Event Info" can also be added as the CTA button.
Post a sale event
Promote a new blog post utilizing the "learn more" button.
Feature new products utilizing "Buy Now" or "Get Offer" button.
The type of content in these posts are limitless but should be contained in up to 300 words. These posts only last for a week. We suggest that you should update or publish new posts on a weekly basis.
5. Messaging & Chatting
One of the coolest added features from Google My Business is the messaging or chat option. This allows user-business interaction through a built-in messaging platform. To activate chat or messaging feature, enter your mobile phone number, and follow the verification steps and the chat platform is activated. You'll receive messages to your mobile phone via the "Allo app" from prospects and potential clients who left a message via your GMB listing.
6. Online Reviews
Online reviews strengthen a business' online reputation. Reviews are also a factor to gain trust from prospects and leads. Online reviews appear alongside your listing and in Google Maps. As a GMB listing owner, it's best to respond to both positive and negative reviews given by a previous customer.
7. Photos & Videos
Another strong feature to aid in optimizing your Google My Business listing is the ability to add photos and videos. Take a photo of your business or store's exterior to give visitors an idea of how your store looks. You can also generate interest by uploading photos showing how your business looks from the inside. You can also upload your staff's photos under the "teams" tab for a more personalized approach.
As a local business owner, you should make the most of your GMB listing to boost local SEO implementation. Engage and interact with your previous customers and possible prospects using the platform. This can give you an edge over your local competitors as you increase your chances of ranking higher in the local three-pack.
If you need help with Google My Business listing optimization, please contact us or give our digital marketing team a call at (610) 650-0227.