How to Write Good Headlines for Your Landing Pages
A website alone will not be enough to convert your web visitors into customers. Good Headlines for Landing Pages with quality content and a call to action is what a business needs for a possible sale. Let's say you already have a website, have produced an optimized landing page with an appealing call-to-action button. What's next? Who knows about your landing page?  How do they get to the landing page?  Getting people to go to your site is one of the hardest parts of being an internet marketer. But getting those visitors to convert is the ultimate reward.
6 Tips to Write Good Headlines for Landing Pages
If you're using digital advertising as a means to lure people to come to your page, you need to write good headlines to get your click through rates boosted. Here are some tips and best practices on how to write good headlines.
Tip 1: Keep your headline to one or two lines.
Since people's attention span can be as long as 8 seconds and as short as 3, keeping it real or short is key.
Tip 2: Center your headline.
Placing your headline in the center gives it the special emphasis it deserves. People will notice the format and will perceive it as important. Take note that anything longer than two lines when centered is hard to read.
Tip 3: Make them big.
To attract the focus of attention, make sure to keep your headline more prominent. It should look disproportionately larger than any other text found on the landing page.
Tip 4: Or try to make your headlines bold.
If you're not comfortable in making your headlines' font bigger, you can make them bold instead.
Tip 5: Try to mix different font types.
Some people may try to mix different font types for distinction and variation. A mixture for any of these formatting may make your headlines a standout.
Tip 6: Use of quotation marks whenever necessary.  In some cases, there's a need to put quotation marks around your headline to make it stand out.
Are you ready to write Headlines for Landing Pages?
Are you ready to draft down some catchy headlines? When writing good headlines for landing pages, always remember to write content directed to your targeted audience. Make sure to base your content to your next best customer. Take advantage of our Buyer Persona ebook to help you specifically target and market your audience.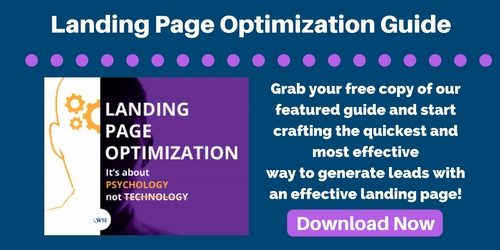 If you want to learn more about Landing Pages, be sure to download our Landing Page Optimization E Book. Great Resource and its Free!