WSI Websense is happy to share with you that our client, Walter Reuben, was recently interviewed by Los Angeles online publication, Voyage LA. Walter's company, WalterFilm, has a primary focus on the glorious history of the European and Hollywood Motion Picture Business. They offer the finest selection of original vintage movie posters, movie star photos, movie lobby cards, movie scripts & rare books and Hollywood movie memorabilia. They also deal in sub-specialties of theater and stage and social history.
When he lived in Austin, TX, Walter was a dealer of rare books and rare paper ephemera. However, throughout his entire life, he has had a great admiration of films. He shifted directions for his business and began focusing on movie history in 1982.
Walter decided to follow his passion and move to Los Angeles which was a good fit for his business. Since 1988, Walter has collected and sold unique, original and vintage movie posters, photographs, lobby cards and other memorabilia.  Walter launched a new website, WalterFilm.com in 2017 with the help of WSI and High Arte which allows him to not only display and showcase the unique and rare products he carries but also sell the products internationally.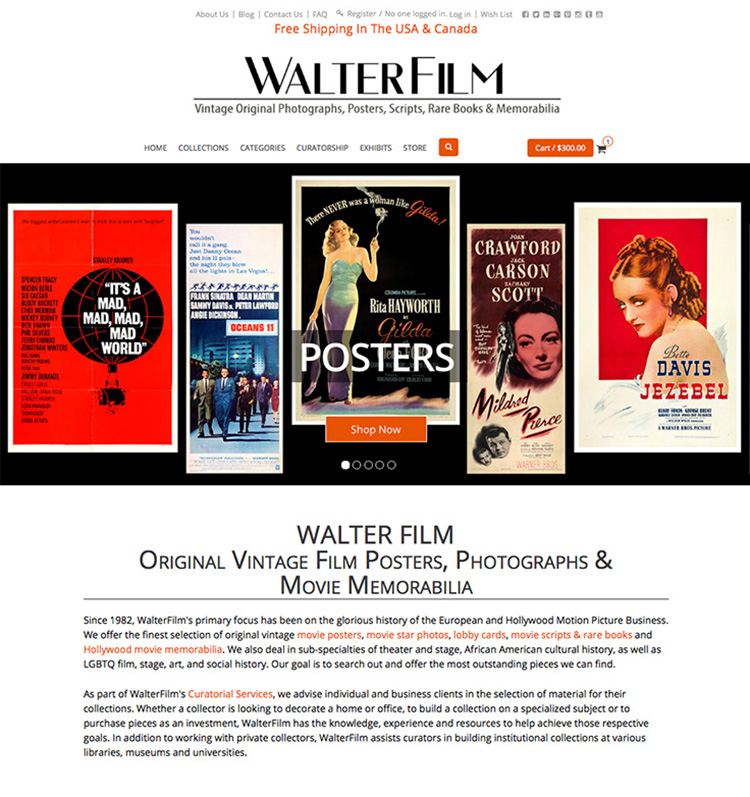 The website is inspired by a boutique, not a department store to showcase only the unique and genuinely rare pieces such as rare vintage movie posters, lobby cards, and movie star photos that are strikingly beautiful in their own right. Additionally, Walter has an extensive collection of specially curated theater and stage memorabilia, African American film and cultural history, as well as LGBTQ film, stage, art, and social history.
In every successful business, there's always a struggle to overcome obstacles, and this is undoubtedly the case for Walter. But with determination, hard work, love of the product, skill, and a little luck he is harvesting from the seeds sowed. We are proud to be associated with this business and invite you to take a trip down memory lane while perusing the excellent collections on WalterFilm.com.
Read the full interview of Walter Reuben by following the link to Voyage LA article, http://voyagela.com/interview/meet-walter-reuben-walterfilm-hollywood/.