Programmatic Advertising
A significant reason why the state of paid online advertising has shifted so much is the rise of programmatic advertising. Programmatic advertising is essentially an automated way of taking advantage of unpurchased ad space to increase your reach. A program can automatically evaluate available ad space on various outlets, bid on the ad space, and run campaigns within those spaces. Programmatic technology can also analyze users' data and behavior, determine which ad would be most useful to each specified audience, and automatically purchase space for the ads to run. Automating your digital advertising process comes with numerous benefits, such as efficiency, lower cost, and reaching specific audiences in otherwise hard to reach platforms.
When to Use Programmatic Advertising
If your business is marketing to a specific demographic, programmatic advertising may be the solution. For example, a B2B company looking to market to CEOs could use programmatic advertising for marketing their brand and services to CEOs reading the Wall Street Journal or Financial Times. Programmatic advertising is best used in conjunction with traditional pay-per-click advertising. This strategy reaches people who are deliberately looking for your products or services and get your brand in front of those who have not yet searched for your product or service, but who might be interested in based on their interests and behavior.
Google Ads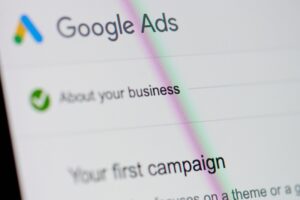 Google Ads continues to be a popular paid advertising platform even as the state of paid online advertising shifts. Google Ads works by running your ads during specific times when your target audience searches for particular keywords and phrases. Your ads will show up when people are most likely to be looking for products or services you offer. Since Google uses a pay-per-click (PPC) model, businesses can get a high return on investment when running ads on Google.
When to Use Google Ads
Any business can benefit from Google ads. Local businesses gain some advantages with targeting and proximity measures included in the Google platform. 76% of people who find a company while searching nearby on a smartphone will visit the business in one day.
These ads let you target for searchers within 5 miles, 10 miles or larger radius of your business, who have a specific search intent, during specific times of day, and a host of other factors to reach local customers who are more likely to do business with you. Companies who want to build brand awareness would do well to use Google Ads, as those businesses get ad impressions from users just seeing their ads and only pay when they are clicked.
Contact VIEWS For Paid Advertising Services
If you are looking for a paid search advertising agency to generate more leads, look to VIEWS Digital Marketing. Our team of digital marketing consultants has experience crafting paid advertising strategies and campaigns for small to medium-sized businesses. We have proven results for effective and successful paid advertising campaigns. VIEWS will work with you to develop the best advertising plan to help you generate more leads. For more information on the state of paid online advertising or how paid advertising can help your business, contact VIEWS today.