Radon-Rid, LLC Engages WSI for Website Redesign and SEO
Radon-Rid, LLC is a fully insured, licensed and certified radon testing and radon mitigation company servicing Southeastern Pennsylvania. The company is driven to help save lives and health of residents by combating the toxic radon gas prevalent in the tri-state of Pennsylvania, New Jersey, and Delaware. They provide unparalleled service for their customers which benefits the entire community. Working with the creative and web development team, Radon-Rid contracted WSI to launch a new website and implement a search engine optimization program to boost web visibility and sales.
An entirely new web design was completed to improve site structure, make the content easier to find and improve search engine rankings. Along with the website redesign project, WSI implemented a local SEO program to increase web visibility targeting the Berks County, Bucks County, Chester County, Delaware County, Lancaster County, Lehigh County, Montgomery County, and Philadelphia County residents.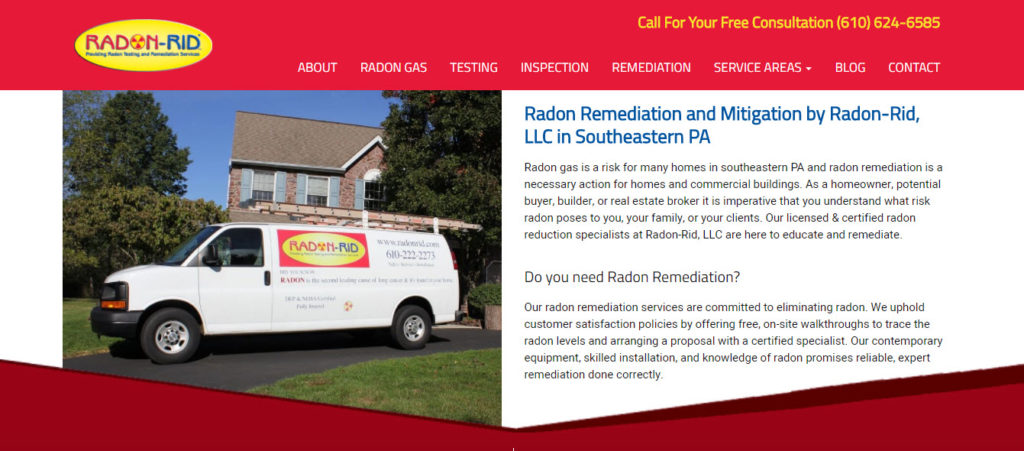 As part of the local SEO package, WSI optimized several main pages based on relevant and highly searched keywords. These keywords complement Radon-Rid's services including:
Our ongoing local SEO implementation involves building backlinks through local directory submissions, article syndication, and other strategies. We also created professional business profiles in WordPress, Blogger, Weebly, and Tumblr that also serves as the external blogging platforms for Radon-Rid, LLC. WSI also provides social media management services to increase business visibility on different social platforms.
WSI provides close monitoring, analysis and monthly evaluation of digital marketing strategies as part of the contract. WSI provides a monthly status report to show site, KPI and social performance for all online properties of Radon-Rid, LLC.