How to Get and Manage Customer Reviews

Setting up your business, marketing it both offline and online and converting prospects into customers is great business; rinse, repeat. However, it shouldn't end there. Every business owners know that customer reviews plays a huge part on their brand's success. Reviews boosts their brand's awareness through word of mouth and online review sites. These reviews build a record based on a
consumer's thought about your product, services or business as a whole.
Bear in mind that customer's thoughts and experiences vary from person to person. Some may leave your store truly satisfied with their purchase, some may comment 'okay', and there are others who would rant about it due to bad experience or service. Receiving feedback, both good and bad is great for every business. Good reviews are uplifting while bad reviews can help you see your business' shortcomings and serve as a reminder for improvement. Bad reviews are also an opportunity to turn a bad experience into a positive one.
If you're new in the business world and want to get and manage customer reviews, here are tips and tricks on how you can encourage them to write an online review.
Ways to Get and Manage Customer Reviews
Use Reputation Management services
There are many reasons why it is worthwhile to use a professional service to build your reputation. We work with some of the leading providers of this service and know that they have developed a system that actually acquires reviews and gets them syndicated online. Additionally, the services can track, analyze, and improve every aspect of your business's online reputation using a single, cloud­-based platform. It's the only tool you need to manage your online reputation.
Whether you have a bricks and mortar or provide a service, reviews will only increase in importance in the coming years. The simplicity of these services means that once set, you can keep gaining reviews and praise from your clients and know how and where to respond. It is also great to have a resource when you are hit by a bad review.
Encourage customers to write reviews on trusted third party websites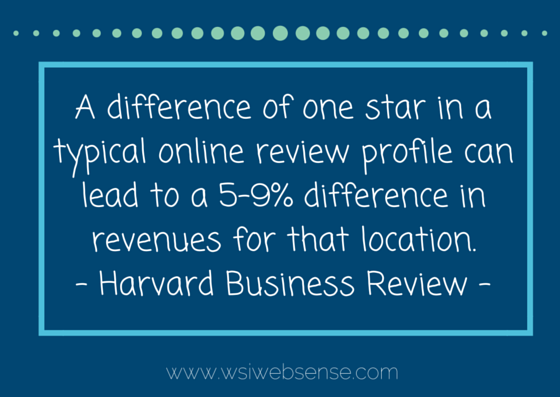 Before encouraging your customers to write a review on third party sites such as Google+, Yelp, Yellow Pages, Yahoo Local, make sure your business is listed and verified on these websites. These review sites simply strengthens a business' online presence and raise the interest of prospects. If they've seen positives review of your business from other people, people will likely go take a peek on your website or possibly drop by your store.
You can send invites through emails and make sure to include links to your business' accounts. Make sure to include a simple instructions to not overcomplicate the process.
These emails should be scheduled over time and not all sent at once. If a review site receives too many reviews in an unnatural way, they will disavow them.
Manage reviews through a built-in comment system.
If you have a website, you can simply designate or create a page that can serve as a means for your customers to write a review. Encourage and advise them to visit that particular page to leave their comments. You can use Disqus or even Facebook for easier signup.
Comments and reviews published to your own website allows you to manage the product reviews efficiently. You have an option to approve, disapprove and delete spam or unnecessary reviews. Or you can simply approve all the comments and reviews automatically. You can experiment, test and further discuss it your webmaster on what works best for your business.
The main downside here is that open comments draw spammers so moderation is required.
Make use of social media for reviews.
One of the easiest way to generate reviews from your customers is through social media. Almost everyone has a social media account. It's much easier to exchange thoughts through this platform because your customer themselves are well-versed on using it. You can invite them to write anything (experiences, thoughts, suggestions and feedback) about their purchase from your business to your Facebook Business Page or Google+ Page. Guide them to your social profile's review area.
There are many ways to generate buzz, garner and manage customer reviews. You as a business owner should be creative and experiment several approach to do so. If you need help, send us an email or reach us through phone.
Here's an infographic we'd love to share!