WSI Websense is happy to share this news by our partner, Bolen High, of High Arte.
WEST HOLLYWOOD, California (October 15, 2017) – Bolen High, Owner and Creative Director of High Arte (www.higharte.com) – his highly regarded one-stop shop for Internet marketing and graphic, media and web design – was recently interviewed by Los Angeles on-line publication, VoyageLA (www.voyagela.com/interview/meet-bolen-high-high-arte-west-hollywood/).
"They initially found me based on my Yelp reviews and website," says High. "But what really intrigued them was that I had made a significant and successful career change at an age when most people are thinking about retirement."
Born in Texas, raised in Oak Park, Illinois and educated at the Art Institute of Chicago and the Goodman School of Drama, young Bolen moved to New York at age 17 to launch a thriving theater career as an actor, director, general manager, teacher and producer with extensive and prestigious credits (Philip Glass' Einstein on the Beach, anyone?) in the U.S. and abroad.
Maestro of reinvention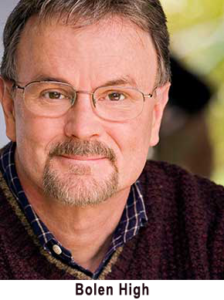 After a move to Los Angeles, however, it was the commercial arm of the visual arts that captured High's imagination. At 60, he returned to school and became certified in graphic and web design. He soldiered forth to open High Arte, survive the worst financial collapse since the Great Depression, and a decade later, helms a flourishing company that goes from strength to strength.
"If growth, change, excitement and dynamism are part of your professional and personal DNA," he explains, "then tackling a new industry is not as extreme a move as it may appear on the surface. The theater was all that for me and was brilliant training in the business of reinvention since each project starts from scratch from disparate parts and has to be built into something coherent. The same is true with projects I take on today for my clients."
In other words, Bolen High is doing what he's always done–embraced creativity, adopted cutting-edge technologies, listened carefully and aggressively monitored the ever-changing dynamics of the marketplace–except that now he has the added advantage of life experience behind him.
All in this together
As a senior entrepreneur himself, High is indeed suited to guide others who are undertaking their own later-in-life business launches but he offers a cautionary note. "Certainly, there's a difference between digital natives (those born into it) and digital immigrants (those who had to learn it) but in many cases I think this is overstated as a marketing ploy. I have clients in their 20s and clients in their 70s and what we share, that is, our sense of possibility, aesthetics, values and sympatico ways of doing business are far more important than the so-called generational divide."
To this end, Bolen High of High Arte melds the imaginative, intuitive and conceptual with the logical, strategic and practical. He uses his knowledge, creativity and yes, extensive experience in crafting his clients' projects into viable and marketable realities.
Contact: High Arte, Media Relations • studio@higharte.com • (323) 656-6517