The Advantage of Building a Strong Online Presence with Digital Marketing Mix
Establishing a strong online presence through a digital marketing mix is a complicated matter. Large and small businesses try different types of campaigns and incorporate some mix of digital marketing services to stay ahead of the competition. As a Nashville digital marketing firm for at least a decade, we can attest that there's no simple or consistent method for maintaining a strong digital presence. Every business is unique as is their target audience and marketing approach.
With hundreds of marketing methods available, businesses must be able to decode and determine which campaigns are suitable for their business and which ones to integrate in their strategies. WSI Websense has compiled the top seven building blocks of every digital marketing strategy. Watch our latest video, WSI Digital Marketing Mix, to help you build a strong foundation of your online campaigns.
To discuss your Digital Marketing Mix, Give me a call at (888) 871-4576.
WSI's Seven Steps to Digital Marketing Mix
1 – Research and plan your marketing actions.
Every strategy, task, and campaign should have a plan. It is essential for each company to set short-term and long-term goals then map out a plan on how your business is going to achieve them.
2 – Develop baseline data, implement, and audit.
Before starting your digital marketing mix, it is important to assess your current digital presence and make sure to capture your baseline data. Determining what you need to focus on and what to omit will allow attention to be properly applied. Also, performing an audit enables you to compare the marketing campaigns and efforts you've done on a weekly, monthly and quarterly basis. A Competitive Analysis is a great place to start. 
3 – Search Engine Optimization
One of the fundamentals in establishing and maintaining a strong online presence is through search engine optimization. Since the search engine's algorithm changes periodically, internet marketers and webmasters alike should be able to adapt to changes quickly. Therefore, WSI Websense focuses on using verified Adaptive SEO™ to stay ahead of the competitors.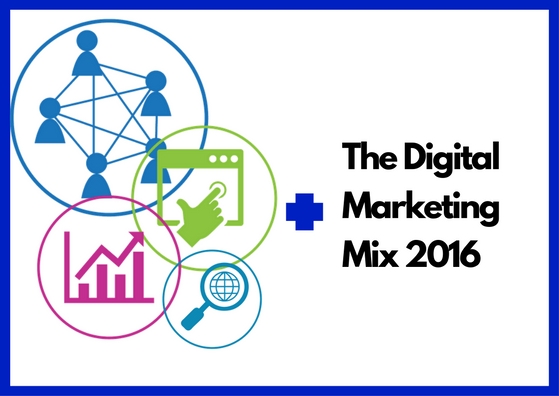 4 – Paid Ads
Get your information, products and services to its rightful audience. Paid advertising opens a significant opportunity to present your brand to the right prospects at the right time. Efficient Paid ads can yield higher conversions and increase return on investment (ROI). Today the ability to present digital ads to the right audience, at the right time and on the right sites is improving conversions exponentially.  Be sure to learn more about Programmatic Ads.  We are happy to provide an audit of your ads performance.
5 – Social Media Marketing
Everyone's using social media, so are your company's competitors! Having social profiles and working with a social media marketing agency is a great way to communicate your brand promise to social media users and also serve as an avenue to maintain your online reputation. If you are not using Social Media for your business, what are you waiting for? Sign up to these social media giants and start building your follower base! It's easy, fun and it's totally free!  If you are using Social Media, are you getting engagement and building your tribe of raving fans?
6 – Delegate tasks through marketing automation.
With so many apps and software popping up on the market, these innovations make it easier for every internet marketer to monitor, measure, analyze and draw reports for all campaigns through marketing automation. It simplifies the process of capturing, nurturing, and communicating with prospects and potential customers. Automation can refer to simple programs that monitor your social feeds, CRM systems, emails and call tracking but when you combine all those pieces together it is a powerful tool!  Marketing automation can be overwhelming at first. But once you get the hang of it, it's a lot easier to create and implement winning strategies! If you are looking for ways to multiply your effectiveness then Marketing Automation is for you.  Give me a call to see how it can work for you.
7 – Email Marketing
Email marketing is still one of the most effective ways to personally deliver your message. It's an excellent communication gateway and the right way to nurture your prospects and obtain customer loyalty. To be successful in email marketing, be mindful that 'less is often more' – don't spam your follower's inbox and make sure to schedule timely emails. We recently published a video about email marketing that presents five best practice techniques to highlight new opportunities and publish targeted email messages that build customer loyalty and increase sales. 
If you would like more information about how the WSI Digital Marketing Mix can help grow your business, fill out the form below or get in touch with us today.